Winchester Speedpark Sunday, May 4
The Spring series takes a couple weeks off for Easter and the New Jersey supecross and then returns to beautiful Winchester Speedpark on Sunday May 4th.

The NESC offers classes for all riders from novices to pros, if you've only practiced at Crow Hill this would be a great day to try racing with other beginners.

Winchester has their own supply of Trackside transponders to rent out to one day riders who do not own their own. It's $10. per day and you can leave a credit cardas a deposit.

Gates will open 4-10pm Sat and 6am Sun
Sign up 5-7pm Sat, 7-9 am Sunday.

Here are some directions to Winchester

There will be a "Welcome to Motocross" school put on by David Boisvert at Winchester on the Saturday before the NESC race, this is a great oppertunity for new racers and parents to learn the ins and out of MX. More details are here.
100% plus payback ten spots in the 250 & 450 expert/pro motos
Not 3, not 5, but all the way back to tenth place*! No New England series pays out what the NESC races pay out. *Riders must place in the top ten of a moto (combined expert and pro to win cash). Expert class riders are also eligible for trophies in their class.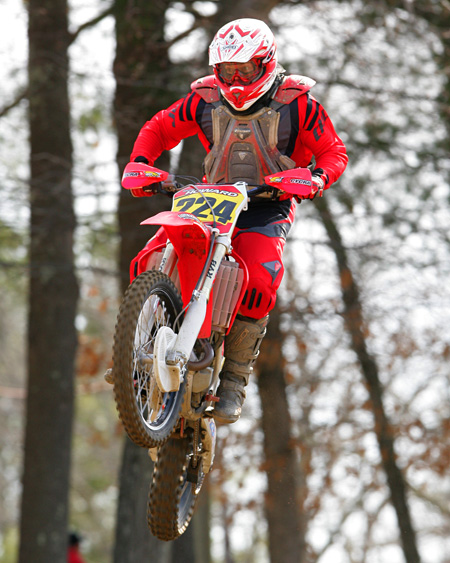 Rob Howard Memorial Race May 10th
Central Cycle Club will be holding a memorial race to honor their late president who passed away in a riding accident last fall.

The race is Saturday May 10th at Central Village.

Riders do have to be 13 years old to race, no memberships to any organization needed, no transponders needed, everyone is welcome.

Entry fee is only 30. per class with no late fees.

All profits go to the Rider Down Fund.

Since it's on Saturday things can get started a little earlier than a Sunday race, signup 7-9, practice 9:00, racing 10:00
Huge points fund for the Pro/Expert classes
Last year $25,000.00 was paid out at the Awards banquet to the Expert and Pro riders in the top 15 and this year with bigger turn outs it could be even more.
Transponders Transponder Transponders
Please make sure yours is charged and if it's a subscription version that it's renewed. You can renew them here.
Notes from the NESC office:
Make sure you move your transponder from bike to bike if you race two.

If your transponder is flashing a red light after charging it is probably out of time and more must be purchased through the MYlaps Website.

NESC does not SELL transponders or chargers nor do we activate the Flex units at the tracks.

If you have lost your charger, you must purchase one on line from Mylaps we cannot charge them for you on race day.

Members must own a transponder before they are issued a card, you have 3 weeks to purchase a transponder after joining We do not rent transponders to members.

A few other reminders: You must ride with your assigned NESC number, with "Y's" and "V's" and with the correct plate color. The NESC referee made note of more than a dozen violations where he reminded riders.

250 four strokes are NOT ALLOWED in our 450 MX classes, unless you bring written proof that they have been modified, and either show it at sign-up or to the NESC referee; that said then they cannot enter the regular 250 Lites classes with the same bike. The NESC will have cards at Crow Hill for members who joined at Central or through the mail this week. New members will not be issued cards until they provide NESC with their correct transponder number


If you're planning on racing this Sunday here are a few tips on how you can make the day go smoother for you and for everyone else.

First if you haven't joined the NESC yet do that today, fill out this form and mail it in. That'll keep you out of one line.

Next pre-enter for the race, not only does it save you ten bucks but you'll be able to just check in at signup and then grab some breakfast.

If you're not going to pre-enter fill out the entry form at home on your computer and print it out. A nice clean print will be much easier for the signup people to read.

Make sure your transponder is charged and if you have a subscription model make sure it's renewed.

Sign up Saturday night, 5-7PM.  Sunday morning 7-9AM.

*All parents must have photo ID.
*Proof of age required for all new members and one-day riders.
*Proof of medical coverage required.
*Rider's meeting 9:00AM, Practice right after that. We cannot hold up the race schedule for the day.

Riders not signed in on time in risk missing practice and may have to be written in on the gate.

*All NESC members must own transponders; order them on line at www.Mylaps.com.

Please be sure they are fully charged. Flex transponders must have active subscriptions.

*Non-members wishing to rent transponders must leave a $200 CASH ONLY deposit with NESC.
Important! All Minors Racing at NESC events.
All parents and guardians must show photo ID's when signing in their minor rider.

Both parent/guardian and rider must be present at sign-up to sign the release form.

If you are under 18 and your legal parent/guardian will not be with you on race day, a *Parental Release Form designating a guardian for the day must be brought to the track on the day of the event. Two copies of this form are preferable; one to give the track with your race form and the other should be carried by the guardian for the whole day for you.

This form is available on line or at the tracks. It must have the date of the event and a designated guardian named on the form and must be signed by parent(s) and must be notarized before coming to the track to race.  

These are not new rules. They are covered in the rule book under E-11 and E23 thru E-25, and apply to all minor riders racing at NESC events. Same rules apply to one-day riders. You will not be able to race without proper documentation.
Crow Hill offers free practice for Pro class champs
Crow Hill is offering past and present premier class champions free practice at Crow hill for 2014. Old expert classes, Pro classes only since splitting experts and pro's. I you're name's listed in the back of the NESC rule book as an expert class champion you qualify!
Notes about transponders
All transponders need to be charged before the first race race, 12-16 hours for a full charge.

Riders with Flex transponders (Pay by the year) should make sure their subscriptions are up to date before the first race. They should connect then to the Mylaps Flex Manager Program to verify the expiration date. We cannot activate them at NESC events because we have no internet connections. We cannot score riders without charged transponders.
Transponder rentals
If you're renting a transponder from the NESC this year please bring $200. CASH for a refundable deposit, sorry the NESC DOES NOT accept credit cards.
Proof of age required for all riders under 19
Riders under 19 need proof of age. Also all forms must be notarized and we must have your Mylaps transponder number (7 digits).
The NESC Scholarship program.
This fund awards $2,000.00 annually to college students meeting NESC requirements.
Eligibility requirements: Must be a NESC member for at least two years in good standing and a full time student at a fully accredited college, university, or technical school. Rider must have attended at least 10 NESC races in the current year.
Application process:
Compose a cover letter to NESC requesting consideration for the NESC Scholarship program; naming the college/course of study you plan on attending.
A copy of your final grades from the most recent term.
A letter from your college registrar's office confirming acceptance to the school.
Please send the above requirements by November 1st; we will make the decisions for awards just prior to the annual banquet.
Deadline to apply is November 1st of the current racing year.
Please send your information to

NESC Scholarship
NESC
P.O. Box 1680
Wells, ME 04090
NESC on Facebook
Like the NESC page on Facebook to see last minute updates and other important info.
Address changed?
If you have changed your address this year, please notify the NESC by email ASAP.